CTE's Early Days
Club Triumph Eastern is the oldest Triumph car club in the UK open to all models. In 1954 the Standard Triumph factory formed Club Triumph. Its headquarters was set up in the Midlands, with regional clubs formed and operated by members in other parts of the country and abroad.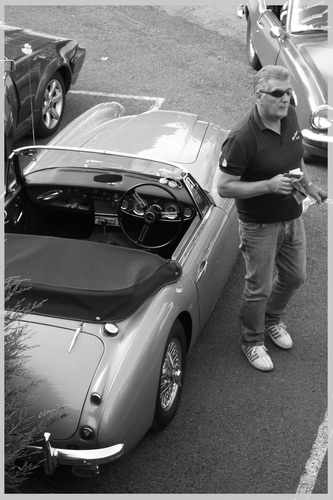 This club was formed in 1959 initially as a regional branch of Club Triumph. After Triumph ceased production the factory based Club Triumph Ltd was disbanded, each regional branch becoming an individual club in its own right.

The club is open to all Triumph owners and enthusiasts interested in using and preserving cars, and meeting like-minded owners of this unique marque.
Our club is also open to owners of all other marques of classic cars and this is reflected by cars owned by current members including Jaguar, Austin Healey, Ford and MG.
For historic reasons the majority of our membership and activities are based in the South East of England but we are open to all and have members country-wide.
We pride o
urselves on being a friendly and family orientated club and our activities through the year try to reflect this theme. Regular events include the annual family fun day held in aid of the Essex Air Ambulance, driving skills competitions, member's car awards and soapbox cart racing. All events are aimed at having some fun and none are taken too seriously.


The early days of Club Triumph Eastern.
If you have stories and photos of Club Triumph Eastern's past then please let us know.
These photographs were loaned to us by founder member Cyril Webb and show that our club was heavily involved in competitions organised by the TAA during the Sixties and Seventies. At the time the club was known as the Eastern section of the Triumph Automobile Association. Exact dates of the photos are not known but fortunately a brief description of each picture was written on the back of the photos.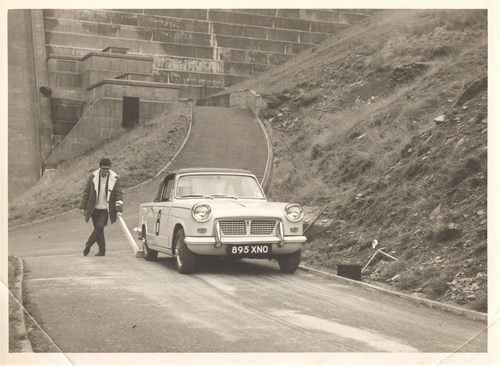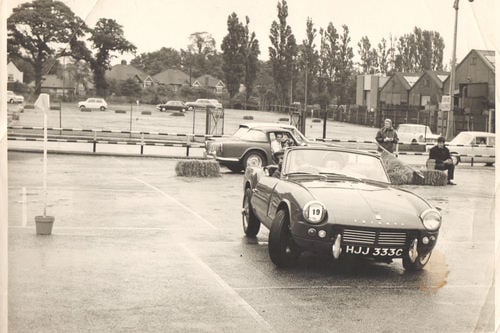 Hill climb at Baitings Dam, Yorkshire. Autosolo at the Coventry factory. A "pairs
Modified Herald won 3rd in class. event and Cyrils' best win.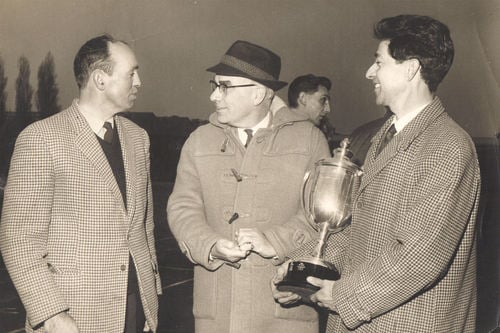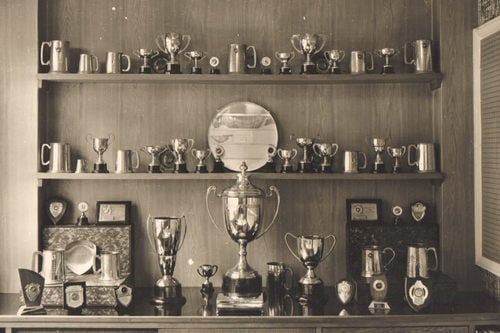 Cyril Webb and Sir Donald Stokes after Cyrils impressive trophy cabinet
winning the main team award.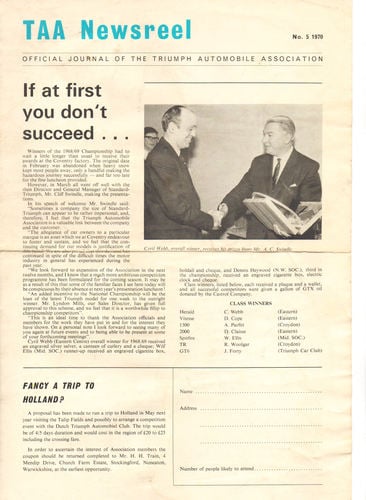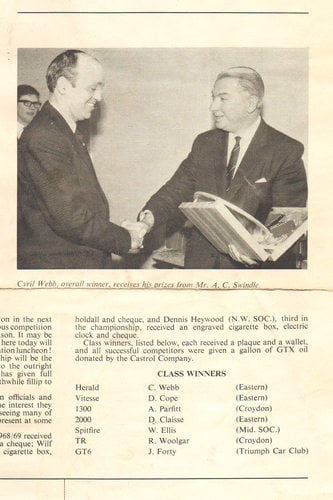 Cyril appears on the front cover of the The Eastern Section take 1st, 2nd and 4th.
TAA magazine. Issue No5, 1970 Award presented by Mr A.C.Swindle
---